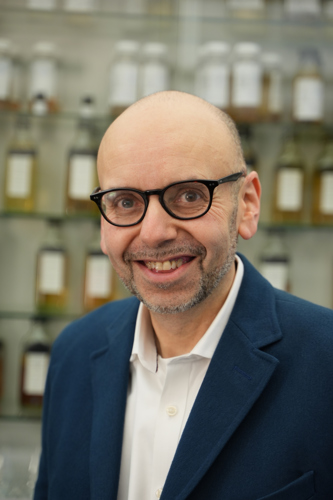 Fate or destiny? Both words have similar meanings about a predetermined future; fate is seen as concrete and determined by the cosmos, and destiny depends on your choices in life. However, it would seem a series of happy accidents and a thirst for living life to the full saw Phil Huckle destined for a career in whisky.
As a 'top table' waiter at St John's College in Cambridge at the age of 18, Phil was exposed to some of the best Ports, Madeira, and wines. After serving bottles and magnums of fine wine to royalty, politicians, lords and ladies, the staff often got to sample the leftovers.
"After each dinner, we got to taste and learn about all the wines and so I started to recognise the difference between a 50-year-old port compared to one available from a supermarket. Or understand what a good quality Cognac tasted like," says Phil, who explains this is where his passion for spirits, wine, and good quality drinks was born.
By his own admission, a lot of his early working life happened almost by accident. Firstly when he moved to the Canaries and worked at a bar on Lanzarote, before returning to the UK to work in a pub, moving to London for a summer and then onto the US.
Phil says: "I went to America when I was 21 and worked in a very good cocktail bar in Austin, Texas, called 606. They had 200-300 spirits on the back bar and I learned about cocktails and, ironically, this is where I started drinking whisky. At the time, whisky was more popular in the US than back home and a lot of my friends drank Scotch whisky. Plus, I was working in a bar and we used to stock a lot of single malts. It wasn't just Scotch, but also Canadian whisky, including popular brands like Seagram 7 and Crown Royal whiskies and US whiskies too, most of which were not available in the UK."
Phil recalls one memorable night off in Austin when he met a soon-to-be Oscar-winning actor. "I met Matt Damon and went out drinking with him before he was famous. It was my night off and I went out to a bar on Six Street," says Phil who had coincidentally watched the film School Ties just the week before.
"I didn't know his name and asked him if he was the character from the movie School Ties. He laughed as he had only ever been recognised a few times and only by English people because the movie was a minor hit in the UK but flopped in the US," says Phil, remembering: "He was in Austin meeting a producer but lived in West Hollywood where he shared a house with five people and told me how tough life was. So we went to my bar and I got us free drinks, which he appreciated as he didn't have much money."
After five years of living and working in the Lone Star State, Phil moved to the Paris of the South, better known as New Orleans. A true melting pot of cultures, New Orleans is best known for its music, food, Mardi Gras and as the place to party!
"When I moved to New Orleans I worked in a very busy bar, more of a party bar, but it was good fun. I had a couple of really good friends from New Orleans and someone had a spare room. It is the best place I have ever lived in my life, just one long party." But when he was all partied out Phil decided it was time to take life more seriously and so he moved back to London.
"It was the year 2000 and the bar scene was exploding in London, so I thought my time working in America would be seen as a bit of a commodity, because of all my experience, and I was right," says Phil who landed himself a job as bar manager.
"AKA was a late-night cocktail and DJ bar, owned by two famous DJs - Richard West aka Mr. C (former lead singer of the band The Shamen) and Layo Paskin (from Layo & Bushwacka Fame). At that time there were lots of bars that had good service and drinks but were a bit up themselves; others offered great entertainment but the drinks and service weren't great. AKA combined the two and we had one of the best back bars in the world, and I was in charge of the front of house including how the bar was run. That was quite amazing as I was able to put all my knowledge to great use and create an incredible back bar. Not just with whiskies but gins and other spirits too. I spent seven years at AKA and loved every minute of it - really good fun."
As well as curating an extraordinary drinks offering, Phil also loved training the staff at AKA. "It was around 2004/5 when a lot of the big drinks companies started employing, what we know now as brand ambassadors, and what I loved doing at AKA was training the staff," says Phil, who adds: "I was invited by Pernod Ricard to apply for Beefeater brand ambassador role where I went up against some tough competitors. I got down to the last two but was beaten, however, I obviously impressed someone as I was offered the role of global brand ambassador for Stolichnaya vodka. I got to fly around the world in business class and visit incredible places like Beirut, Manilla and Taipei."
From there, Phil moved into the role of Pernod's UK ambassador for its Scotch whisky portfolio working with the likes of Chivas Regal, Ballantine's and Royal Salute as well as 13 single malt distilleries. Phil says: "I had good enough scotch whisky knowledge to really hit the ground running and I did that job for 12 years. I was based in London but often travelled up to Scotland entertaining customers and journalists."
But when the pandemic hit Phil was made redundant as part of a cost-cutting exercise, but Pernod's loss was Cask Trade's gain as he joined the business as Brand Specialist in May 2020. His extensive whisky knowledge is now put to good use, writing educational and informative content for Cask Trade's customers and hosting tastings.
Away from work, Phil likes to partake in the odd dram and has recently started enjoying Armagnac with either an H Upmann or Montecristo cigar. He says: "I have a bottle of Glenfarclas 105 open at the moment and I love highballs, whisky soda. I first started drinking them when I went to Japan on business. Scotch whisky highballs with a blended whisky, soda, a wedge of lemon, served in a tall glass with lots of ice."
Phil's favourite style of whisky is from Speyside and his recommended hidden gems are from three distilleries that were previously not well known, but whose brand equity is rising thanks to the investment now going in by their parent companies.
Critical Casks:
Aultmore – John Dewars Ltd (Bacardi)
Glen Moray – La Martiniquaise
Tamdhu – Ian Macleod Distillers
Interested in Investing in Whisky Casks? Register for our whisky investment guide
To find out more about Cask Whisky Investment, contact the Masters today.
Keep up to date by following us on socials: Instagram, Twitter, Facebook, LinkedIn, YouTube.